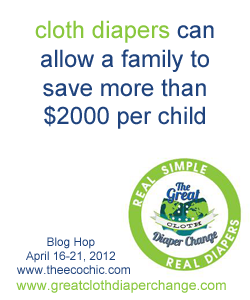 Diapering a baby is usually one of a household's biggest expenses in their baby's first two or three years. If you use disposables you will spend anywhere from $1500 (if you're super frugal and use coupons ever time) to $3000 (if you can't be bothered with coupons ever and the very thought gives you hives). That's a lot of money, even if it is spread out over a few years.
If you cloth diaper your baby, you can spend anywhere from $150 up (less if you do pre-folds and covers) for a set of pocket diapers. The thing is, it takes some searching to find the brands that are momma-tested and wallet-approved. If you're expecting, or trying to make the switch, this can be a daunting and time consuming task. I'm going to try to save you some time and tell you about a few brands of pocket diapers that won't break the bank. I'm going to cover mostly pockets because that seems to be the diaper type most new-to-cloth-mommas go for due to their ease and convenience.
The first brand I'm going to tell you about is
Kawaii pocket diapers
. These diapers retail for about $10 a piece, making a stash of 24 diapers (enough to do laundry every 2 days) about $240. You'd spend that on disposables in just a few months.
Diaper Junction
has their own "house brand" if you will. Their
Diaper Rite
pocket diapers are $9.95 per diaper if you choose a suede-cloth stay-dry inner material or $11.95 if you choose their
bamboo
option. With these diapers you're looking at spending around $240 to $290 for 24 diapers.
SunBaby Diapers
are made by a work at home mom, offer a ton of prints, and are some of the most affordable pocket diapers around. She sells her diapers in bundles of 6, 12, or 24 diapers and with or without inserts. For a package of 24 diapers and 48 microfiber inserts you will only spend $144.00!
If you search around, I know you'll find more brands of affordable diapers. Another option is to search places like Craig List or
Diaper Swappers
to buy some used diapers for a great discounted price!
Cloth diapering may be a bigger up-front cost than disposables, but it doesn't have to break the bank!